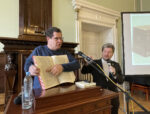 In February 13-16, 2023, Christian Academy in cooperation with Israel Embassy in Latvia, Ambassador Mrs. Sharon Rappoport-Palgi, organized lectures on Anthropologcial questions in Babylonian Talmud, the most important text of Judaism by world-famous judaist prof. Haim Weiss (Ben-Gurion University in the Negev, Israel) at Aula Minor of University of Latvia.
Lectures attracted professionals from helping professions – social workers, social pedagogues, religious scientists historians of culture, policy makers.
One week intensive course opened up possibility to discuss modern issue of human identity crisis. The discussions were held in a very welcoming atmosphere, clarified many questions of modern philosophy and history of reveleation given to Jews.
European Christian Academy has cooperation agreement with Ben-Gurion University in the Negev and Centre of Jewish Studies.
By this we sincerely thank Israel Embassy in Latvia for making this event possible!