European Christian Academy takes care of the environmental accessibility, so that all students, teaching staff and visitors with limited mobility can freely access all rooms.
In 2016, ECA received a Letter of Gratitude from the Ministry of Education and Science for its contribution to the promotion of access to education for persons with disabilities.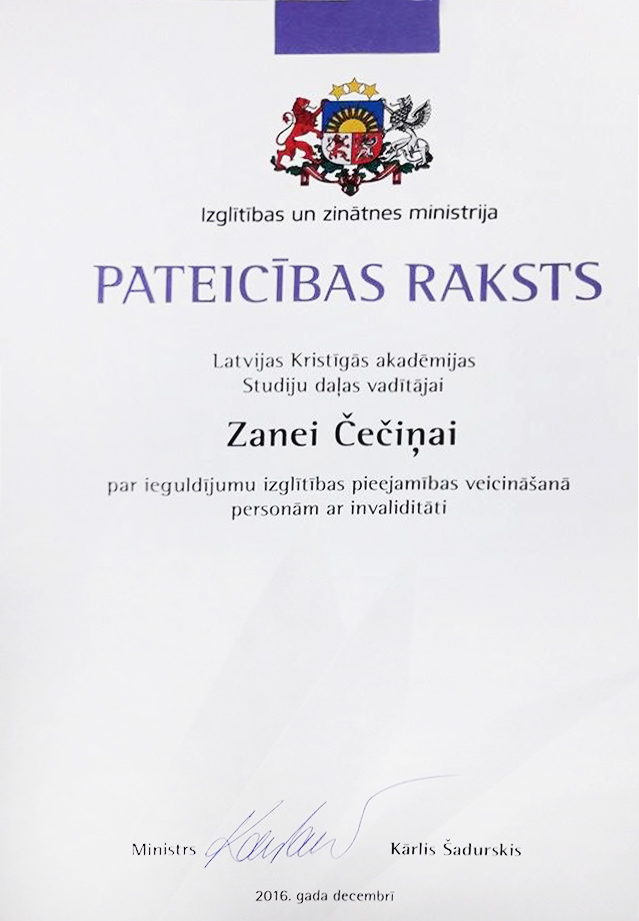 Vājredzīgajiem un neredzīgajiem augstskola piedāvā asistenta pakalpojumu.
The building is accessible to persons with mobility impairments and is appropriately equipped:
There are no steps at the entrances that would hinder the movement of persons in wheelchairs,
At the entrance of the library there is a ramp with appropriate dimensions,
It is possible to move around the premises in wheelchairs,
The toilet is accessible to persons in wheelchairs,
Persons with hearing impairments can sit face-to-face at the tables,
The emergency exit (main exit) allows you to leave the building independently,
You can come with a companion dog.
Rolands Brikmanis, a sign language interpreter, helps conduct lessons for deaf and hard-of-hearing students.
For the visually impaired and the blind, the academy offers an assistant service.