The project was supported by the European Community of the European Commission.
Content
Culture program (2007-2013)
Agreement nr. 2008-2248/001-001
Intercultural Dialogue: Sacred Elements of the European National Art
Within the EU there are different national and cultural identities represented. In this multi-cultural setting, it is important to find unifying, shared values, at the same time not losing the uniqueness of each cultural community. Historically the shared Christian values have served as a foundation for European unity. Especially it is obvious in early European Sacred art and the elements of national art. Seeking consolidation within the EU today studies of the heritage of Sacred art could be one of the most important steps for its actualization in the 21st century. It is important to remind historically unifying although stylistically diverse foundations of consolidation.
The Project is focused on the fragile contents of early European art.
The Project addresses the semantic, aesthetic, and social synergies and appreciation among mentioned regional cultures. Understanding and respecting the meaning of mentioned diverse national artworks grows from an understanding of and insight into common cultural heritage.
The Project should be looked upon as collective action: representatives of mentioned countries act both as keepers and analysts of their diverse cultural heritage, sharing their views on particular cultural and social values – solidarity, cohesion, understanding of welfare which is to be revealed in foundations of the sacred norms and values of the European civilization.
The overall objective: to reach the goals of EC "Proposal for a Decision of the European Parliament and the Council concerning European year of intercultural dialogue" (2008).
Project Partners
Universitatea Babes-Bolyai (Cluj, Romania)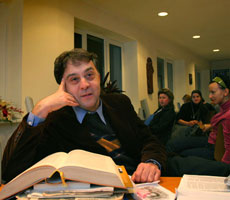 The project reveals opportunities for creation, belief, and a large communication within the arts, offering the participants involved the possibilities of sharing and approaching to the sacred themes of the 21st century. The most exciting aspect of the project seems to be the intercultural interference within the large area of the arts, regardless of each other's christian confession.

Dr. Marcel Muntean, Faculty of Theology
Mullsjö folkhögskola (Mullsjö, Sweden)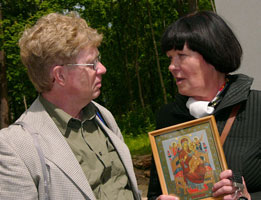 We are very glad to be partners in this project. We see it as a natural step in our long friendship with Latvian Christian Academy. We also think that an intercultural dialog is something important and interesting to take part in.

Par Gunnarsson, Mullsjö Folkhögskola lecturer
Continental Art Centre (Rotterdam, The Netherlands)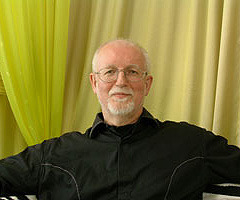 It's now about 45 years that I have been active in all sorts of arts, arts-organizations, labour-unions and special projects. Religion becomes more and more important for the identity of people groups. So the combinations between the arts and the beliefs is a promise for a lot of interesting and enjoyable moments. This coming project will create those bridges, and may become a source for inspiration.

Sir Leen La Rivière, chairman Continental Art Centre, home of the CNV artists trade unions; Rotterdam, the Netherlands
Project Development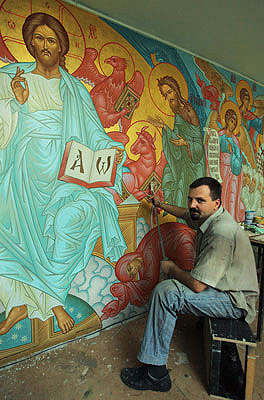 Early Christian and Byzantine artists invented and defined the Sacred tradition in visual representation that dominated European art until recent times. The images and structures they created and visible worlds of religious experience were visually and intellectually so satisfying.
The Project was about interculturality – to unite European people and to understand Europe.
02.08.2010.
Reports from the coordinating organization LChrA:
Project coordinator: Nele Zirnīte;
Financial book-keeper: Ingrīda Jespere;
Rector: prof. Skaidrīte Gūtmane.
Representatives from partner organizations:
Reports on outputs and results from partner organizations;
Press releases were made on each project event, also advertising in media
Number of events carried out – 12;
Number of people attending the events – ca 3000;
Number of printed publications distributed – 1500.
Added value:
Extend the scope of cooperation activities of research and education on grounds of common heritage of European culturesadarbības paplašināšana, balstoties uz kopīgiem Eiropas kultūras pamatiem;
Formation of common cross-cultural policies of transnational, national levels;
Professional practice cooperation between specialists and organizations in arts and culture;
Involvement of different stake holders: artists, culture actors, trade unionists, NGO's, presenting a strong multidisciplinary approach on project methodology;
The goal: to work further in cooperation on writing a research paper on intercultural dialogue.
Open Workshop "Sacred Elements in Conceptual Art of Janeric Johansson"
2010.03.16.
An open Art workshop on Sacred elements in contemporary art was lead by a well-known Swedish artist from Malmö Janeric Johansson on March 16, 2010. The essence of its contents may be described as follows: a plurality of meaning provides an essential qualitative dimension behind an artist's concepts, wordplay, and installations. The title of the Workshop was "Place, King, Law, and Light". Artist presented his own and very creative use of space & angles, squares, and letters to reveal the hidden contents of the seemingly simple object. Janeric Johansson presented his latest creation called "Made in China" – a large exhibition where East and West meet to share their traditional values. Surely the workshop enriched friendship ties between Latvian and Swedish artists, it was attended by students of the Latvian Christian Academy, professional artists, and specialists of traditional and contemporary Christian art.
"It was fascinating to get acquainted with the artist's path to the so-called 'big art' – how an autodidact with great interest in art becomes a professional and acknowledged master. The Artist's enthusiasm, sincerity, penetrating insight, and earnest attitude towards the process of creation and its highest task were surprising. Both idea and concept are essential in Johansson's art. To my mind, he is one of those conceptual artists although he differs from others by choice of his topics, through symbols and metaphors used when he speaks about crucial choices in human life, the fate of different nations, and, of course, about one's personal feelings. However, he emphasizes that any viewer is free in his perception and interpretation of the artwork. Master class allowed getting an insight into various techniques, materials used, and instruments. I was fascinated by Johansson's huge size graphics, they are both impressive and technically fine, and virtuoso skilled. Hand of a professional drawer is an obvious, subtle line, nuanced tonal proportions. It was surprising to see that the artist is active in so different plastic arts – drawing, painting, sculpture, environmental objects." Baiba Kalna, Graphic artist.
J.Johansson conceptually demonstrated the potential of the Swedish national art to deal with crucial aspects of solidarity between people in Europe.
Article about the art of Janeric Johansson by Guntis Dišlers.
Presetation of the Book "Sacred Elements of National Art"
2009.12.08.
The presentation of the project album "Sacred elements of national art" was held at the Latvian Christian Academy on December 8. The project was carried out with the support of EC. Along with theoretical articles paintings of Latvian, Romanian and Swedish artists are published. Romanian authors (students from Babes-Bolyai University and prof. M. Munteanu) offered traditional oil paintings on glass. Graphics and installations of Swedish artist J.Johansson invite to look at relationships between people and nations (he has workshops in different countries – Sweden, China, Israel, etc.) from unexpected angles which reveals sudden revelation of Divine contents.
Graphics of Latvian artist Nele Zirnīte presents a paradoxical worldview. Icons of Latvian artists (B. Soloveja, A. Grīna, A. Gricmane, N. Stratanoviča, T. Kiseļova, A. Šenke) are published in the album. The presentation was attended also by the head of the Higher Education Programmes department at the Academic Programme Agency in Latvia Mrs. Dz. Prikule, the Programme director Mrs. A. Jakoviča, Icon painter G. Mironov (Moscow), Graphic artist N. Zirnīte, painter S. Jākobsone, journalists.
Open Workshop and Theoretical Seminar Led by Icon Painter Georgy Mironov "Byzantine Iconography and Quest of European Identity"
Exhibition "Sacred Elements in European National Art" in Gallery "Nellija"
2009.04.19.
The exhibition is a public square for discussing European Christian art and cultural heritage; it orients to a better understanding of the EU Treaty article 51; reveals multiculturalism as a manifestation of the genuine richness of European art.
The exhibition is held in the gallery "Nellija", Riga.
Article about Icon and modern man by Sarmīte Gūtmane.
Open Workshop of Graphics "Nexus – The Role of Art in Communication Between Two Realms"
2009.04.18.
Nele Zirnīte is an internationally well-known Latvian graphic artist. Within the current project frame, an open workshop was held. Theoretical analysis of the artist's work links her graphics to current tendencies in Western Christian art.
Article by Guntis Dišlers about graphics of Nele Zirnīte.
Concert of Sacred Music "The Chants of Ancient Europe and Church"
2008.12.04.
In the filled-up Chapel of Latvian Christian Academy, the Liturgical Choir "Fronēsis" (cond. A.Selickis, Choir manager V.Dolacis) presented its new Programme "The Chants of Ancient Europe and the Church" containing chorals of different European nations from 12th – 16th centuries.
Open Workshop of Iconography "Sacredness of European Consciousness: Iconograpy of the European Holy Patron Saints: St. Benedict, St. Cyril, and St. Methodius"
2008.12.03.
Workshop of Icon painting was held at Latvian Christian Academy by Icon painter, Priest of the Latvian Orthodox Church father Alexander Shabelnik, in October – December 2008. Renowned Russian Icon painter Georgy Mironov (b. 1976) visited the workshop and worked there for several weeks.
The name of G.Mironov perhaps is not well known to people neither in Latvia nor even in Russia. Lifting the shroud of mystery the truth becomes clear – this is an ancient tradition of Icon painter's craft, to leave the finished work unsubscribed. After all, it is not important how the artist reveals his personality. The icon is a window to the Kingdom of God, an invitation to prayer, and overall penetration in the Liturgy of the Church. Therefore the name of the artist usually remains in the shadow and is not known to people. Only specialists can tell who is the author of this or that particular artwork.
Georgy Mironov has done a lot in Latvia, especially in the mid-nineties, taking part in the restoration of the Orthodox Nativity Cathedral in the very center of Riga. The former atheist educational center called Planetarium was returned to its past owner Latvian Orthodox Church. G.Mironov and his colleagues worked first on planning, then painting beautiful frescoes inside the Church.
In spring 2008 G.Mironov made a copy of the miracle-making icon of Mother of God "Yakobshtatskaya". The original has been lost long ago, but G.Mironov restored it from old photographs. The icon was consecrated by the Patriarch of Moscow and all Russia Alexius II in Moscow and brought to Riga in a special solemn ceremony. Now the miracle-making icon rests in the Monastery of the Holy Spirit in Jēkabpils, Latvia. Georgy Mironov was awarded the order of Holy Martyr of Janis Pommers, Archbishop of Riga, and all Latvia (murdered in 1934).
The style of Georgy Mironov is extremely nuanced; it shines with both clear and plastic lines. Every line is drawn perfectly just once with a tiny brush and never corrected. Although there are many details in his works, they never lose connection with the whole composition thus creating a harmonious unity. Master continues the world-famous Russian traditional miniature school of Palekh. "I am miniaturist," he speaks about himself. Exquisite details and subtle colors are characteristic of the Palekh school.
Participants of the workshop, students, and teachers of Latvian Christian Academy could follow the making of the icon from the very beginning to the end, to see the birth of a miracle, and to work on their icons under the guidance of the experienced master.
The workshop started on December 3 and was led by icon painter and priest of the Latvian Orthodox Church Alexander Shabelnik and Russian icon painter Georgy Mironov.
It was visited by leaders of the Latvian Orthodox Church – His Eminence Metropolitan of Riga and all Latvia Alexander, and Bishop of Geneva and Western Europe Mikhail and Bishop of Daugavpils Alexander.
An icon of European patron saints was finished (1,5 – 2 m).
International Conference "Nation, the Problem of Sacralization and European Shared Values"
01.12.2008.
Was held in the Museum of History of Riga and Navigation, Riga. The exchange of ideas on the European process of intercultural dialogue was carried on by twenty researchers from four European countries. As a result, a network of researchers and artists was created.
Coordinator and partners agreed to invite icon painter Georgy Mironov (Russia) – "modern-day Andrei Rublev" – to join the project. Work on the icon of European patron saints St. Benedict, St. Cyril, and St. Methodius was started.
Conference program.
Open Theoretical Seminar and Case-Study Workshop "Common Art Heritage of European Culture and EC Culture Policy"
2008.11.12.
The workshop of the well-known Director of the Continental Art Centre (Rotterdam) Sir Leen la Riviere was invited by Latvian Christian Academy on November 12, 2008. Besides having run numerous art projects in his country and abroad Sir L.la Riviere is involved in the Christian internet TV channel management. The workshop was attended by students, teachers at the Sacred art department of the Academy as well as art historians, critics and art managers, and curators from various institutions. The topic of the workshop was connected with social aspects of art, the added value of art in society, and the rebirth of Christian spirituality instead of overall secularism. It was raising awareness particularly of young people, of the importance of seeking the means to use real dialogue and to realize active European citizenship open to the world, respectful of cultural diversity and common values in Europe.
Concert of Oslo Chamber Choir (Norge)
2008.11.11.
The concert was held in St. Peters church, Riga. Concert widened the scope of intercultural dialogue beyond academic research and the visual art area.
Opening of the First International Sacred Art Exhibition
2008.11.11
The first event of the Project – opening of the traveling Sacred Art exhibition "Art in the light of the Church Tradition" in Blackheads house, Riga, on November 11.
In the exhibition, there are Eastern Orthodox icons, copies of Western religious paintings, and originals and graphics exposed. Icons have been created in the workshop of Icon painting led by Father Alexander Shabelnik and under the supervision of Georgy Mironov (Moscow), as well as paintings and graphics were created in workshops of ass. prof. Sivija Jakobsone and prof. Vladimir Kozin from Latvian Christian Academy. Also, artworks of glass-painted icons (Romania), religious paintings of Janeric Johansson (Sweden) were exhibited. Best works will be accepted in the traveling exhibition which will move to project partner countries Romania and Sweden in 2009, where it will be enlarged with works by local artists. The exhibition in Riga will be open till December 20, 2008.
First Project Partners and Coordinator Meeting.
2008.10.05
Was held on October 5, 2008, where:
The overall development of the project was decided and approved;
Artists' workshops and exhibitions were agreed upon;
The concept of the "project work book" was discusse;
The project web-page was officially launched.
After the meeting, there was a social evening at the Latvian Christian Academy where participating artists were met and both lecturers and students of the Academy were introduced.
In other languages