Internationalization strategy at LChrA is realistic: Latvia will never be the number one destination for foreign students, but as small academy we can offer students more personal and spiritually comfortable approach.
International profile:
LChrA participates in international networks and programmes with many organizations world-wide.
Respective EC organizations have recognized unique value of our study programs in regards to both content and methodology. The basis for the success story of Latvian Christian academy is rooted in THE INTERNATIONAL SUPPORTIVE COMMITEE – both academic and socially political entity, gathering representatives from USA, Israel, Germany, Norway, Sweden, Belgium, France. Rector of Latvian Christian academy prof. Skaidrīte Gūtmane is member of the think-tank groups of several EC organizations.
Main directions:
Research and education on Climate Changes and European Social Agenda through international platforms (ECTA, EZA, IXE-Group, IDC),
European Sacred Art Heritage and Modern Social Agenda,
Mobility of students, teaching and administrative staff as fundamental of European cooperation,
Internationalization through Erasmus+ mobilities HARTA!!!
Implementation of international projects on European, Baltic and regional level,
International conferences, research grants for enhanced dialogue between higher education institutions,
Collaborative research and knowledge production.
Values for international cooperation:
Active networking and transfer of knowledge on unique platforms,
Global solidarity networks in higher education, strengthening social cohesion and goals of ecducation for 21st century,
Social dimension firmly embedded in the unique combination of values and principles of European dimension of higher education,
Competitiveness and cooperation.
ECA cooperates with following international partners and universities:
Universities and Academies
Israel Antiquities Authority (IL),
Ben-Gurion University in the Negev (IL),
Bethlehem University (IL),
Jerusalem University (IL),
VID Specialized University (NO-VID)
Academy of European Culture and Art (NE),
Bielostok University (PL),
Wheaton College (USA),
St. Climent Ohridski University of Sofia (BU),
Diaconia University of Applied Sciences (FIN),
ECAC (European Continetal Art Centre, NT),
EUROCS (European Щrganization for Civic Responsibility (BE),
European Association of Schools of Social Work,
EZA (European Center for Workwers' Questions and Social Dialogue, D),
Finnish Theological institute (FIN),
Highschool of Theology and Mission in Ansgar (NO),
IASSW (International Association of Schools of Social Work),
IDC (International Diaconate Center, D),
Institute of Mental Health – Semmelweis University (HU),
Klaipeda University (LT),
Leuven University – Institute of Work and Society HIVA (B),
Orthodox Academy of Crete (GR),
Sankt Georgen Graduate School of Philosophy and Theology (D),
IXE GROUP (Christian Initiatives for Europe (F),
Kolpingo University of Applied Sciences (LT),
St. Ignatio of Loyola University of Applied Sciences (LT),
Kaunas University of Applied Sciences (LT),
Lithuanian University of Educational Sciences (LT),
Mullsjo Folkhogskole (SE),
Semaines Sociales de France (F),
Semmelweis University (HU),
Tallinn University (EE),
University of Tartu (EE),
University of Babes-Bolyai (RO),
University of Klaipeda (LT),
Vilnius Academy of Fine Arts – Kaunas Art institute (LT),
Vytautas Magnus University, Kaunas (LT).
Research centers and networks
ANSE – European Association for Supervision,
Christian Social Workers' Association,
EPSIN – European Platform for Social Integration (BE),
EUROCS (Research Organization of European Civic Society) (BE),
HIVA (Higher Institute for Labor Studies) (BE),
EZA (European Center for Workers' Questions) (EC – D),
Global Association of Social Workers,
IDC (Internationales Diakonatszentrum) (D),
CIRIUS (The Danish Centre for International Cooperation and Mobility in Education and Training) (DK),
IXE-GROUP (Christian Initiatives for Europe) (F),
Semaines Sociales de France (F),
Association  of Christian Artists (NE),
ECAC (European Continetal Art Centre, NE),
Scandinavian Association for Social Work.
Church organizations
Latvian Orthodox Church
Latvian Evangelical Lutheran Church
Roman Catholic Church in Latvia
ECEN – European Christian Environmental Network
IXE – Initiatives of Christians for Europe (Germany)
RENOVABIS – European Catholic organization (Germany)
International Bible Schools Association, Minneapolis (USA)
Mission Possible (Latvia)
SAM – Swedish Alliance Mission (Sweden)
Skarpnack Lutheran Church in Stockholm (Sweden)
Penasquitos Lutheran Church (California, USA)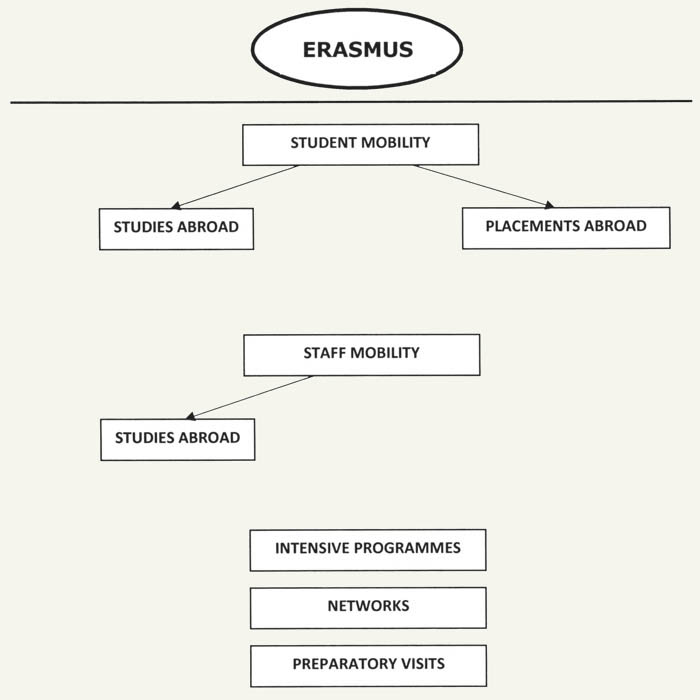 ERASMUS mobility is regulated by the ERASMUS Students' charter.
ERASMUS mobility pushes new ideas, creativity and innovation.
ERASMUS came to Latvia in 1999 and all stages of LChrA development were influenced by ERASMUS. We have grown and matured together with ERASMUS,
Students come back more open, confident and creative,
Staff gain a lot too by being able to exchange good practice with colleagues at partner universities,
Teachers get to see things from another perspective.