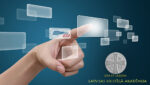 Important for all students and educators!
Latvian Christian academy in cooperation with EZA (European Center for Workers' Questions, EC – Germany) hosts international seminar "Life-Long learning for Increasing Labour Participation and Inclusive Work-Life in the Baltic States against the Background of the Other EU Countries" will be hosted by Latvian Christian academy in May 21-23, 2020.
Key topics of the seminar:
Life-long learning in Latvia and Europe after Covid-19? Why life-long learning matters? Why European Commission has emphasized the issue in the context of formal and non-formal education? What are criteria for that type of education?
Experts in higher education and life-long learning from
Germany, Poland, Lithuania, Estonia and Latvia will be speakers at the seminar.