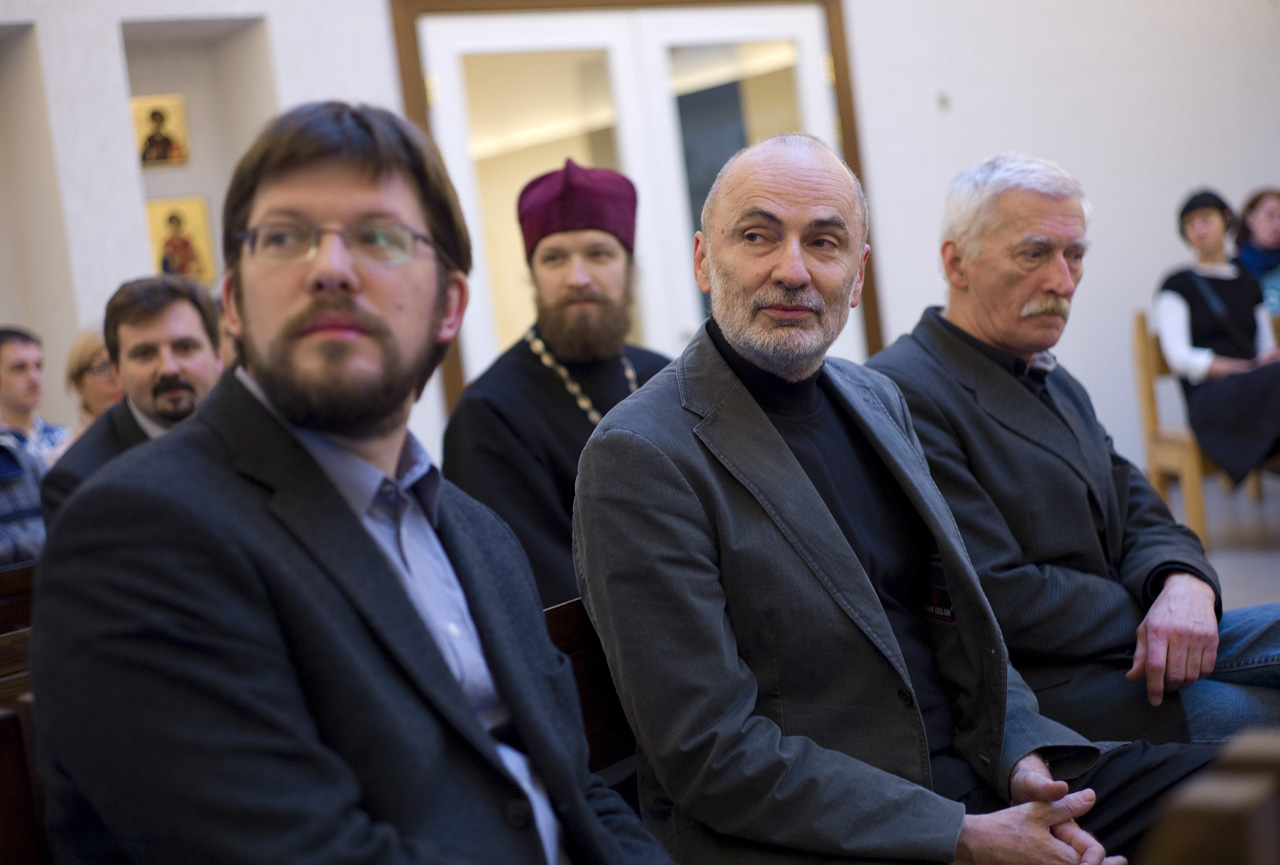 Biblical art study programme received excellent evaluation.
Four international experts (head of the group Dr. Valdas Jaskunas, Vilnius University, Lithuania) visited LChrA in November 22 for evaluation of the Bible art study programme, Bachelor level. The visit was held within the frame of the European Social Fund project "Evaluation of higher education study programmes and recommendations for further improvement". The goal of the project is to evaluate and to improve the education quality in Latvia.
Experts met administration, academic staff, students, graduates and employers. The visit put an end to intense work on self-evaluation report and preparation of all necessary documents for inspection. Experts checked both creative and research activities of students and lecturers, met priests of Latvian Orthodox Church, Roman Catholic Church and Evangelical Lutheran Church of Latvia. They also met a guest–teacher – Icon painter from Moscow Georgy Mironov.
Workshops and studios of icon painting, classical painting and drawing were open for visit, and experts were thrilled by beautiful icons in the Chapel of the Academy, all works by graduates of the programme. With great excitement we received their opinion at the end of the visit: "There is no similar study programme in Latvia and hardly one may be found in all Europe."
At the end of the visit experts pronounced an informal opinion of the expert's group which will be summarized in written report about the visit at the LChrA:
The art study programme at the Academy is unique – both nationally and internationally,
The spirit of the Academy is that of creativity – both intellectually and spiritually,
Infrastructure of the Academy provides execution of the study programme with its studios, library, computers etc.
Experts recommended to enrich social work study programme at the Academy with the rich potential of the art study programme, e.g., in the direction of art therapy, as well invited to "propagate the work done here on international scale" and to introduce international society with uniqueness of work at the Academy.
Also recommendation to build up the master study programme in art was extended along with additional studies in frescoes and mosaics technologies.
[nggallery id=34]