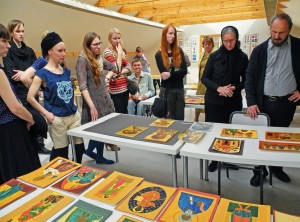 Latvian Christian Academy in AUGUST 19-25, 2019, organizes SUMMER SCHOOL IN ICON PAINTING, in which there is possibility to go through all phases of Icon painting – starting with the preparation of Icon board until the final varnish of ready painting. Summer School provides theoretical and practical basis of canonical Icon painting, applying an individual approach to every person attending a course of training.
Latvian Christian Academy since 1994 has earned experience in providing education in Icon painting and as a result of cooperation with the experts of Iconography from Latvia, Russia, Israel and the Sinai (Egypt) has established the Department of Church Art, in which there is possibility for already several years to obtain study programs of Icon painting on the level of Bachelor and Master studies. The Summer School in Icon Painting shares this accumulated experience with everyone who is interested in canonical art of the Church.
Main emphasis is put on painting of portrait Icons, mastering professional skills in the preparation of Icon board, painting by the use of both the egg temper and natural pigments, applying of gold, and studies of colour harmony and composition as well as other professional techniques in Icon painting. Lectures on theology of Icons are included. By finishing courses, every participant has written his own Icon.
Summer school is run by professional icon painters of study programme «Church Art» of Academy.
For those who are familiar with the icon painting the Courses will make the knowledge more profound and teach practical skills in icon painting. And we are sure that Icon will not leave indifferent anyone who is not yet familiar this ancient and rich artistic tradition of the Church. Icon is not only an object used in the life of worship, as a "window" to the transcendental, a prayer, relationship with Christ, Virgin Mary and the Saints, but also a high-quality work of art. Exploring the art of Icons and learning more profound the Icon painting as well the techniques of composition, each artist will have a new impulse and enrich his or her own creativity.
Date and venue: August 19-25, in Jūrmala (Latvia), Bulduri (address: Vienības prospekts 23), in the premises of Latvian Christian Academy. Training is taking place working days, from 10:00 until 17:00. Lunch break at 12:30 – 13:30. In between some short breaks.
Registration until: August 12, 2019.
Training fee: 250 EUR + materials.
Language of courses: for foreign attendants training is organized in English.
Accommodation: from 10-35 EUR per night, possibilities for accommodation on place and through www.booking.com (please beforehand inform the organizers of Courses).
Credit points for the course: 3 ECTS. At the end of the Courses participants receive the approved certificate of Latvian Christian Academy.
Additional information and applying via e-mail: kursi@kra.lv , tel.: +371 29 338 605 (Valters Dolacis), or +371 677 533 60.
Please be welcome to the Summer Courses in Icon Painting in Jūrmala!