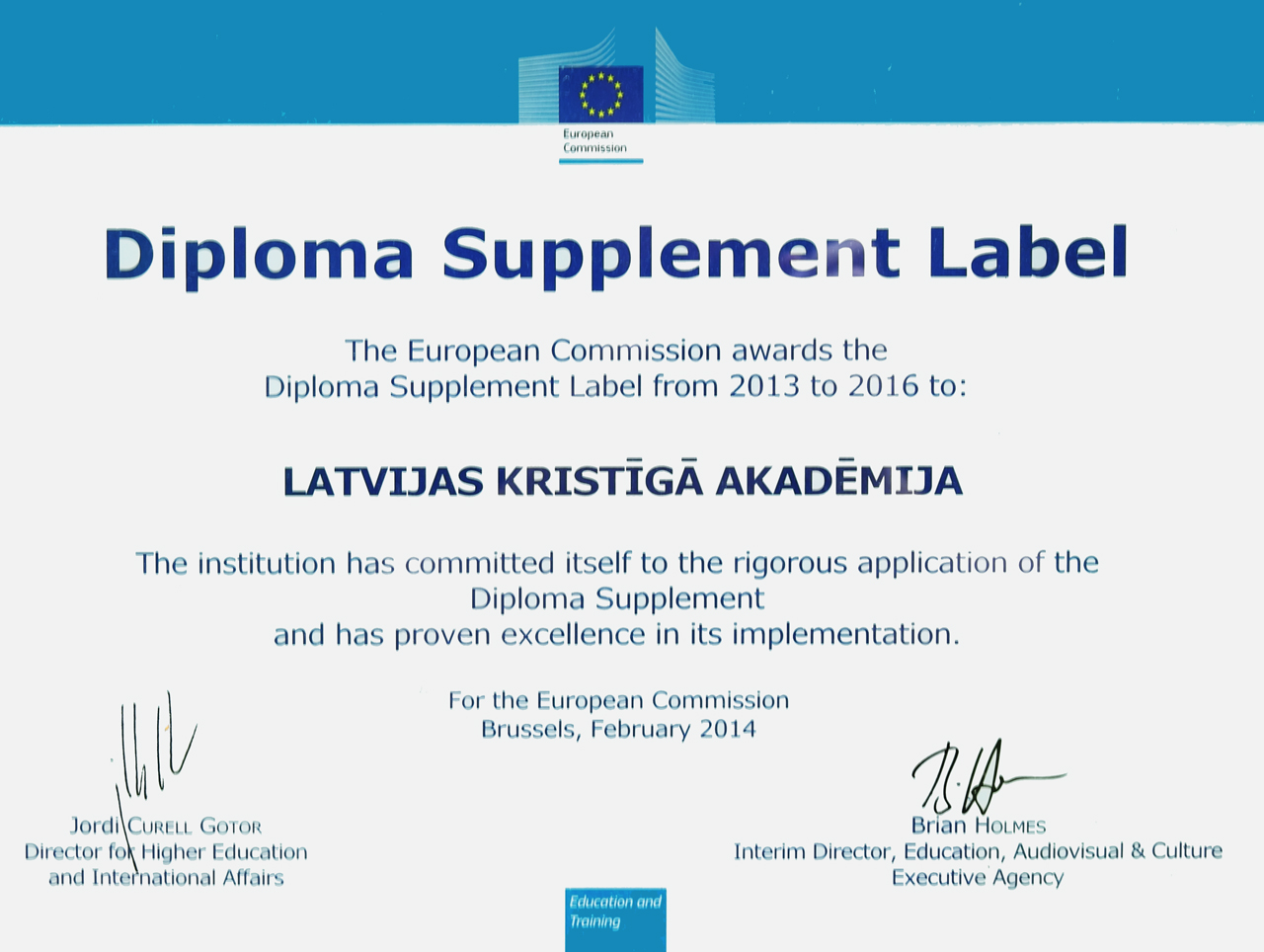 In June 3, 2014, Latvian Christian academy was awarded with EC Diploma supplement quality label (DS). EC recognition vestiges are given to European higher education establishments who have shown excellency in the implementation of ECTS and DS. ECTS is an instrument which helps to work out study programmes, works for transparency of both study programmes and their qualification, promotes international recognition and of study results and qualification, and permits comparance of the acquired higher education  degree on European scale. DS is a document added to the Diploma which secures standardization of the achieved results. It provides exhausting, easy-to-understand and mutually comparable information.
Latvian Christian academy offers high-quality education. Study programs are research-based and organized within an innovative interdisciplinary framework. The programmes are flexible and use state-of-the-art ICT tools.
Quality assurance.
Internal evaluations – both course unit evaluations and program me evaluations – external visitation and accreditations are crucial elements in the quality assessment and development processes at LChrA. Students are highly involved in this process: through student evaluations of teaching and as a member of education committee of each programme.
Respective EC organizations have recognized unique value of our study programs in regards to both content and methodology. The basis for the success story of Latvian Christian academy is rooted in THE INTERNATIONAL SUPPORTIVE COMITEE – both academic and socially political entity, gathering representatives from USA, Israel, Germany, Norway, Sweden, Belgium, France. Rector of Latvian Christian academy prof. Skaidrīte Gūtmane is member of the think-tank groups of several EC organizations.
Vision of teaching and learning at the Academy.
LChrA updated its vision of teaching and learning in 2010. This new vision does not mean a breaking with the past, instead it builds on the Academie's education approach "Guided independent learning" and resumes its fundamental elements in an updated framework (among others a more active approach of the teacher's responsibility before every student).
The Academie's vision of teaching and learning emphasizes the dose link between research and education: study programs are research based, thus enabling students to acquire academic competences, including thorough knowledge and skills in the discipline, coupled with a broader interdisciplinary perspective, and a critical and research-oriented attitude. Moreover, students integrate these academic competences within a broad ethical, cultural and social formation. Through this they learn to make well-founded choices and to act professionally, constructively and critically in their chosen field. This enables them to assume their Christian and social responsibility as committed  citizens.
In Academie's vision of teaching and learning the active student is in the end responsible for his/her own learning process. It is the responsibility of the staff to provide optimal support for the student.